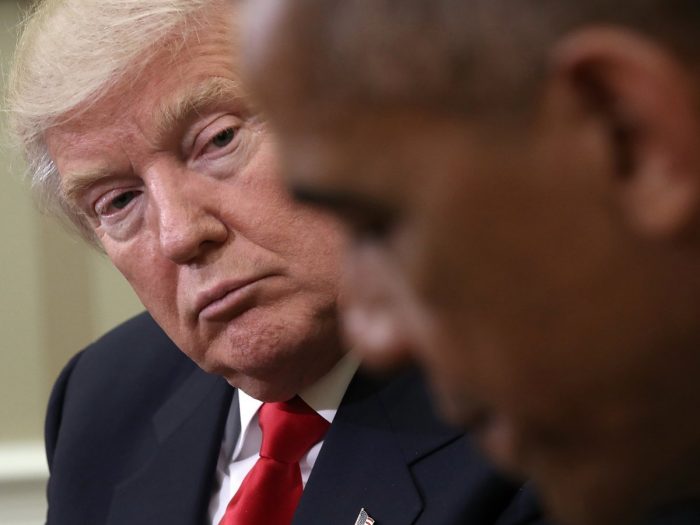 Donald Trump and Barack Obama

Donald Trump has claimed Barack Obama ordered for his offices in New York to be 'wire tapped'.

The allegation – made without showing any evidence – included calling Mr Obama a "bad, or sick, guy".

"Terrible!" the President said. "Just found out that Obama had my 'wires tapped' in Trump Tower just before the victory. Nothing found. This is McCarthyism!"

Soon after he added: "Is it legal for a sitting President to be "wire tapping" a race for president prior to an election? Turned down by court earlier. A new low!

"I'd bet a good lawyer could make a great case out of the fact that President Obama was tapping my phones in October, just prior to election!"




However, despite the severity of the claim, Mr Trump did not immediately provide evidence that Mr Obama was responsible for surveillance on his property.

The President has a long history of making unfounded and sometimes bizarre claims and it is not the first time he has used them to attack his predecessor.

Mr Trump has been a strong proponent of the 'birther' conspiracy theory, which held that Mr Obama was not born in the US.

Using anonymous sources – which he has criticised the press for utilising – Mr Trump has at least five times alleged that Mr Obama was not born in the US and that his birth certificate was a "fraud".

The tirade came at end of a week in which Mr Trump had been praised widely for acting in a more Presidential fashion, during his first address to Congress.

This article originally appeared on The Independent.