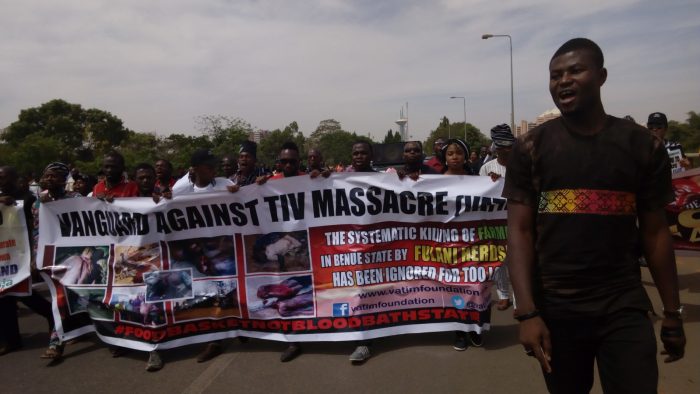 A Benue group, Vanguard Against Tiv Massacre staged a protest at the National Assembly on Thursday, March 16, 2017 against killing of Tiv people by Fulani herdsmen
Hundreds of youths and women in Umuoba Anam community in Anambra East Local Government Area of Anambra State embarked on nude protest against the activities of Fulani herdsmen in the their state,
New Telegraph
reports.
The protests, held on Wednesday, March 29, 2017, was primarily against their traditional ruler, Igwe G. A. Ekwealor, who they accused of supporting the activities of Fulani herdsmen in the area.
The protesters who claimed their action was to appease the gods following what they described as debasement of their land by their traditional ruler who is "allowing" Fulani herdsmen into their community where they had been terrorising farmers.
The monarch has denied the allegation, saying that he had no hand in bringing the violent Fulani herdsmen to Umuoba Anam community.
Addressing journalists in Awka, chairman of Anambra East traditional rulers' council, Igwe Alex Edozieuno, who is the traditional ruler of Mkpunabo Kingdom, said that when the matter was brought to the council, it was deliberated upon with Igwe Ekwealor subsequently absolved of any wrongdoing.
Igwe Edozieuno said the council also invited elders of the community who condemned the protesters and urged them to appease the gods for their action.
He harped on the importance of peace and stability in all the communities in the local government, bearing in mind that it the state's governor, Chief Willie Obiano was from their community.