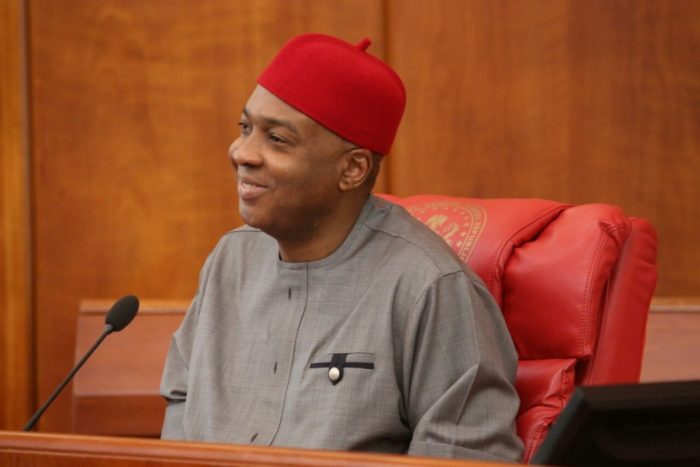 Senate President, Bukola Saraki

The Nigerian Senate has called for the suspension of the confirmation of the 27 Nigerians as resident electoral commissioners, REC, of the Independent National Electoral Commission, INEC.

The then Acting President, Professor Yemi Osinbajo, had sought legislative approval for the nominations.

The lawmakers, while speaking on the report by the senate committee on INEC at the plenary on Tuesday, March 28, 2017, pointed out that the legislature should not approve more nominations by the executive because of the president's failure to remove the acting chairman of the Economic and Financial Crimes Commission, EFCC, Ibrahim Magu, after his nomination had been rejected by the senate.

The nominees are Prof. Godswill Obioma (Abia), Ibrahim Abdullahi (Adamawa), James Apam (Benue), Nwachukwu Orji (Ebonyi), Iloh Valentine (Enugu), Asmau Maikudi (Katsina), Mahmuda Isa (Kebbi), Prof. Samuel Egwu (Kogi), Prof. Mustapha Zubairu (Niger), Agboke Mutiu (Ogun), Abdul-Ganiyu Olayinka (Oyo) and Prof. Riskuwa Shehu (Sokoto).

Others are Ahmad Mahmud (Zamfara), Nentewa Yilwatda (Plateau), Umar Ibrahim (Taraba), Emeka Ononamadu (Imo), Obo Effanga (Cross River), Prof. Francis Ezeonu (Anambra) and Briyia Frankland (Bayelsa).

They also include Ahmad Makama (Bauchi), Mike Igini (Delta), Hussaini Pai (FCT), Sadiq Musa (Kaduna), Jibrin Zarewa (Kano), Rufus Akeju (Lagos), Sam Olumekun (Ondo) and Kasim Geidam (Yobe).

President of the Senate, Senator Bukola Saraki, who presided over the plenary, pleaded that the confirmation be suspended for two weeks, which was unanimously approved.
Magu Must Go – Senate

The Nigerian Senate on Wednesday, March 15, 2017 said that its rejection of Ibrahim Magu as the chairman of the Economic and Financial Crimes Commission, EFCC, means that he has lost his acting capacity.

This means that Mr. Magu must immediately vacate the office and President Muhammadu Buhari needs to appoint a new person to lead the anti-graft agency.

Abdulahi Sabi, the spokesperson for the Senate made this disclosure after the plenary session on Wednesday which say the rejection of the controversial EFCC acting chairman on grounds of abuse of human rights and corruption report by the country's secret police.

Sabi said some senators who were backing Magu's confirmation backed out because of his poor performance during plenary. He was asked 9 questions and he failed to answer them satisfactorily.