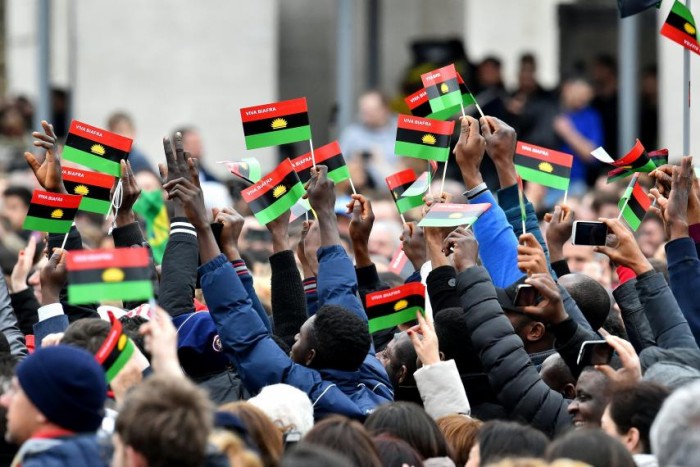 Pro-Biafra activists, IPOB, wave flags in St. Peter's Square at the Vatican, February 28. Pope Francis greeted spoke of the activists as indigenous peoples of Biafra during his Angelus address. | Vincenzo Pinto/AFP/Getty Images

Elochukwu Amucheazi, a prominent member of the Igbo Leaders of Thought, ILT, and Ohanaeze Ndigbo, has said that a free Biafra would be turned into a 'Dubai' in 5 years as he warned that if Nigeria is not restructured, it will surely break up.

Professor Amucheazi, who is national secretary of the Igbo Leaders of Thought, made this disclosure in a recent interview with Vanguard in which he spoke on a range of issues, mainly, Igbo leadership, the need to restructure Nigeria, the South East Governors Forum, President Muhammadu Buhari's slanted war against corruption, and the renewed agitation for Biafra's independence.

Asked if he believes in Biafra restoration, Amucheazi said, "I guess you are talking about self- determination which is a guaranteed human right. The issue is not viability or no viability."

"When it comes to that really; you look at all these tiny countries in West Africa, are they even bigger than Anambra State, how much more the five eastern states assuming it comes to that? Senegal, the Gambia, Benin Republic, Ghana and the rest of them put together! What is our population? What is even the land space as it is?

"If our people determine today, that this area at the border between Abia, Anambra, Ebonyi, Imo and Enugu, where you have this cattle market (Lokpanta) and the rest of them, create that area and call it a community of its own; give it a charter for 50 years and you will see another Dubai there. It is possible to transform this place called South East within five years. Even Israel, what is their population; what is their land mass?

"The issue really is the principle of self- determination. That has to be accepted. This idea that some chaps are asking for this and you start shooting them down, that is unlawful, that is not helpful; you are alienating people more and more and therefore creating tension.

"That is not a way to build a nation, common nationality and identity; that is not the way! I have said it before that coercion; that is force, has never held any country together. Look at the old British Empire, look at all empires all over the world, they have come and gone.

"Even the so called modern empires, those who disintegrated a few years ago… Sometimes I get worried that people are not coming up constructively with suggestions on how to make this country one country. With common identity you can transform this country but not with a unitary system of government," the professor said.

Read the full interview at Vanguard.