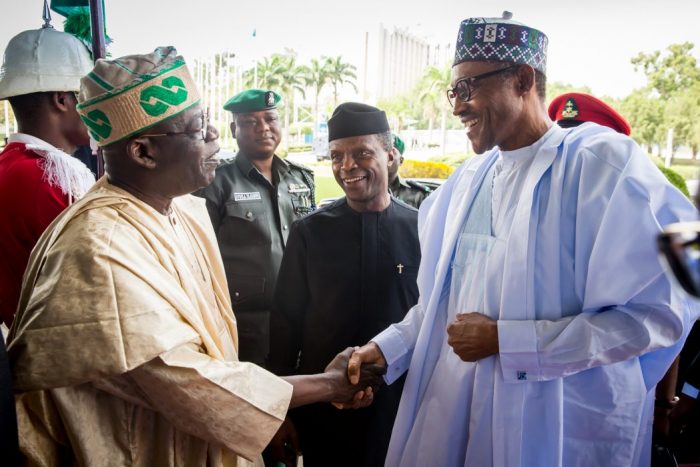 FILE: Bola Tinubu and Muhammadu Buhari greet at the Bola Tinubu Colloquium
President Muhammadu Buhari has revealed how Bola Tinubu, the national leader of the All Progressives Congress, APC, was able to secure electoral victory in 2015 for the party.
According to him, Tinubu's understanding of politics helped in unseating an incumbent government.
The APC defeated the Peoples Democratic Party in the 2015 presidential election partly because of Tinubu's political contributions.
Ahead of Tinubu's 65th birthday on Wednesday, March 29, 2017 Buhari in a goodwill message said Nigeria stands to gain a lot from the former Lagos governor.
"President Muhammadu Buhari warmly felicitates with former Lagos state governor and chieftain of the All Progressives Congress (APC), Sen Bola Ahmed Tinubu, on his 65th birthday," a statement issued by Femi Adesina, the presidential spokesman, read.
"President Buhari joins all members of the APC, political and business associates of the Asiwaju of Lagos, his friends and family, in celebrating another milestone in the life of the great leader, whose foray into politics ushered in a better understanding of building consensus to achieve historical feats, like unseating an incumbent government.
"As he turns 65 years, the president believes the Asiwaju raised the bar for many political leaders across the country as a two-term governor of Lagos State, and also bequeathed a style of leadership that completely altered the landscape of the commercial capital."
The president recalled his pleasant and intellectually enriching encounters with Tinubu over the years, and he re-affirmed that "the nation has benefited a lot from the personal sacrifices, political experience and intellectual foresight of the APC chieftain, and still stands to gain more".
"President Buhari prays that the almighty God will grant the Asiwaju good health, longer life and more wisdom to serve his country and humanity," the statement read. (NAN)