According to reports, the bombers failed to gain access to the worship centre and as such only the bombers died in the blast. Five people were injured, emergency officials confirm.
Borno police spokesman Victor Isuku said one of the suicide bombers detonated an explosive that killed her fellow attacker too after they failed to gain access into the targeted mosque.
Isuku said the attack occurred "at about 0520hrs, today, when two female suicide bombers with IED strapped to their bodies attempted to enter a mosque at Juddumuri village, after federal high court.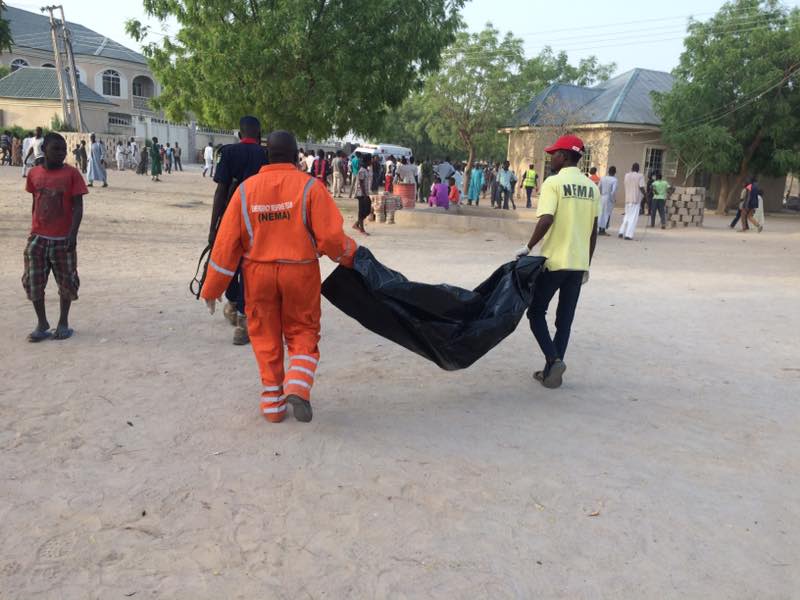 "They were intercepted and prevented by the Muslim worshippers. In the process, one of them detonated her vest, killing both of them and injuring five others.
"The injured were rushed to specialist hospital, while the remains of the suicide bombers were equally evacuated by state emergency management agency (SEMA)."
Officials of the National Emergency Management Agency (NEMA) packing up body of one of the dead bombers, a statement issued by Abdulkadir Ibrahim, the spokesperson for NEMA, North East said.
"Four other persons with injuries were administered with first aid and transported to the hospitals," the brief e-mail to The Trent said.
A second blast was heard from the same location at about 6.37am after bomb ordnance operatives defused a bomb held by the second suicide bomber.